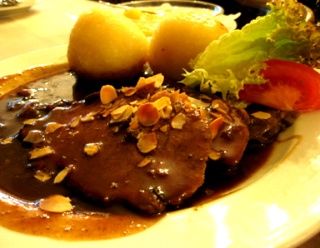 Foto can be found here: [You must be registered and logged in to see this link.]
Ingredients:
1 c. Italian dressing
1 c. water
6 bay leaves
10 whole cloves
4 peppercorns
1/8 t.ground ginger
4 lbs. beef rump roast
1/2 c. water
2/3 c. crumbled gingersnaps
How to:
In a large bowl, combine Italian dressing, 1 cup water,bay leaves, cloves, peppers and ginger.Add meat, turning to coat;cover and marinate in refrigerator about 24 hours.In a large saucepan or Dutch oven, brown meat;add marinade.Simmer covered, 2 hours or until tender.Strain liquid from meat into medium saucepan and combine with 1/2 cup water and gingersnaps;cook, stiring constantly until smooth.Serves 8.