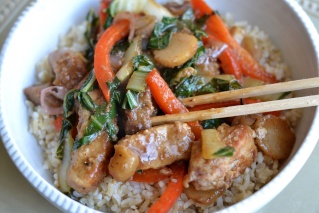 Foto can be found here: [You must be registered and logged in to see this link.]
Ingredients:
2 t. salad oil
1/3 c. onion, chopped
3 T. leftover gravy
1/4 c. cream of mushroom soup
1 T. soy sauce
1/2 c. drained bean sprouts
1 t. cornstarch
1 c. cooked rice
How to:
Saute onion an celery in hot oil, until onion is tender.Add soup, soy sauce, and gravy, stiring as mixture comes to a boil.Reduce heat and simmer covered.Stir cornstarch and water together until smooth.
Add ti pork mixture.Cook,stirring constantly until mixture boils and becomes thick.Serve over rice.